Alumni News
George Paton '87 Named GM of NFL's Denver Broncos
Loyola Football has produced its fair share of NFL talent over the years. And this past winter, one Cub made a climb up the executive ladder to land a coveted job as the general manager of an NFL franchise.
That's former Cub quarterback, team MVP and sophomore football head coach George Paton '87. He was named GM of the Denver Broncos in the Mile High City last month, making the move from his role as Assistant GM and Vice President of Player Personnel for the Minnesota Vikings.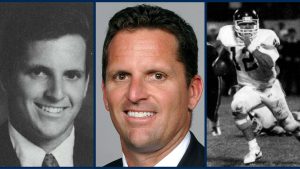 Widely viewed as one of the best executives in the league, much has been written about Paton's journey as a teenager at Loyola High School to an NFL front office. Read some of the feature stories on George Paton below: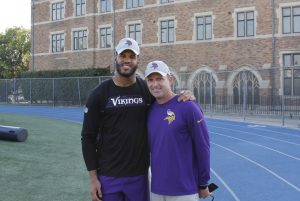 Photo: Paton (right) and former All-CIF honoree Anthony Barr '10 (left) made their return to Smith Field in 2018 when the Minnesota Vikings were in town. The Vikings used Loyola's campus for an afternoon practice.