#mentoring
Alumni Return to Judge Virtual AP Economics Contest
On May 27–28th, Loyola alumnus and social science teacher Brian Held '93 hosted the annual Capital Market and Economic Policy Recommendations Contest, where seniors in his AP Economics classes presented on the current state of the United States markets. Students had to confidently share their research on these unprecedented times, defend recommendations for fiscal and monetary policies to a panel of alumni judges and then field their questions. The following Cubs and Cub fathers were able to participate as guest judges this year:
Dan Medina '75, Jim Hannon '80, Michael Reilly '81, Michael O'Brien '83, Michael McCracken '86, Michael Gilhooly '88, David Hilton '99, Brian Miller '02, Brendan Folan '09, Robert Foster, Jean-Marc Chapus and Allen Wisniewski
Encouragement message from the judges to the seniors:
(Judges in this video: Michael Reilly, Michael McCracken, Brendan Folan, Robert Foster, Dan Medina, Brian Miller, David Hilton, Brian Held)
Loyola used to compete in an interscholastic academic economic competition starting in 2005. When the hosting organization, California Council on Economic Education, ended the program, Held and Loyola began an intra-school continuation of it in 2015 with alumni judges. This year, everything occurred via livestream over Zoom: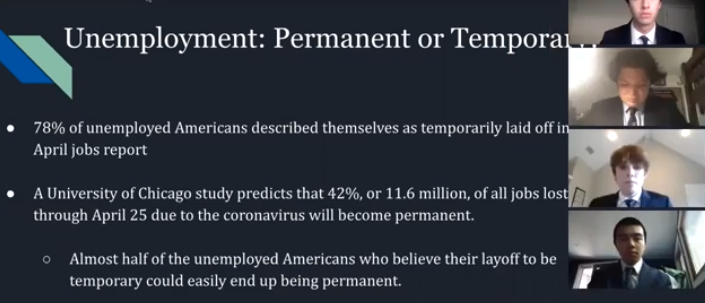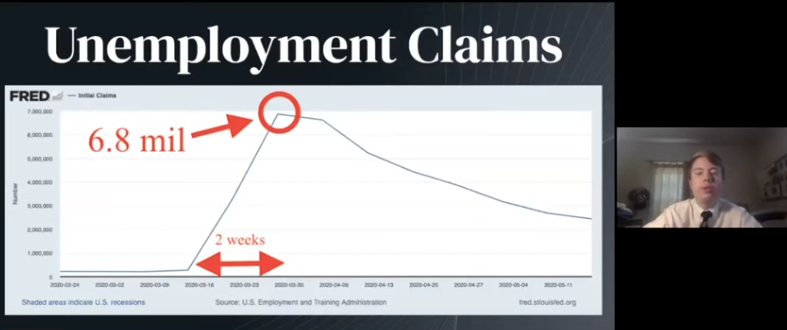 Held, along with all of Loyola's faculty, have been keeping a regular classroom experience online, complete with a bell schedule. Although outside of the traditional classroom environment, his students were diligent in finishing their preparations to take the Advanced Placement exams in Micro and Macroeconomics, as well as researching for these group presentations.
And the incentive for winning the Capital Markets contest? An exemption from taking the final exam. This year's winning team from the Class of 2020 was comprised of Max Arnerich, Chase DuBois, Conor Gorry, Alex Horowitz, Michael Lew, Christian Suceveanu and Christian Zada.
If you would like to find out more about the program, see more of the students' output or participate in the future as a judge to the student presentations, please reach out to AP Economics teacher Brian Held '93 at bheld@loyolahs.edu.