#C4L
Alumni Notes – June 2020
With an alumni base that is more than 16,000 strong, Loyola Cubs from far and wide have had many notable accomplishments and continue to share some exciting news. Read below for some fun info about our alums.
Senior Shoutouts to Class of 2020
Loyola High Alumni, both young and old, and family and friends of Loyola from all professions sent in videos to congratulate the graduating Class of 2020.
Dr. Jeremy Williams '87 Feets the Homeless
Searching for a way to help the homeless population in Los Angeles, Loyola alum Dr. Jeremy Williams '87 came up with the idea to collect and donate new/slightly used shoes for homeless men, women and children. Williams and his children were actively engaged in the collecting of the shoes and the cleaning that followed. This idea of his has since grown into a much larger project known as Feet the Homeless, with several collection sites sprawled throughout the city. To date, the Feet the Homeless organization has now collected, cleaned and donated over 3,660 pairs of shoes to homeless men, women and children in Los Angeles. Their 2020 Shoe Drive was cut short due to the pandemic, but there were still over 600 pairs collected and then delivered by the Williams family to homeless shelters. Please click here to visit their website for pictures and to find more information on how you can support.
Fr. James A. Rude, SJ '50 † Remembered in National Catholic Reporter
Former Loyola teacher Fr. James A. Rude, SJ '50 left a legacy of spiritual and social justice formation. During his tenure as an instructor at Loyola from 1967-1978, Fr. Rude started the Christian Action Movement (CAM), mentoring future Jesuits such as Fr. Greg Boyle, SJ '72 and establishing the model for what is now Loyola's community service program. To read the full story in the National Catholic Reporter, written by fellow Loyola alumnus Dr. Patrick Whelan '78, please click here.
Longtime Loyola President Fr. Patrick J. Cahalan, SJ † Celebration of Life
The Celebration of Life for Fr. Patrick J. Cahalan, SJ, emeritus chancellor of Loyola Marymount University (LMU) and long-time president of Loyola High School of Los Angeles, was postponed. Once the City and County's large gathering restrictions have been lifted, Loyola High School will reschedule the Mass and reception in honor of Fr. Cahalan, whose extraordinary work spanned three decades, enhanced the quality of Loyola's educational program and touched thousands in our community. Please click here for his obituary.
Fr. Greg J. Boyle, SJ '72 Selected for CA State Task Force
In April, Fr. Greg Boyle, SJ '72 of Homeboy Industries was one of 80 business and union leaders selected by California Gov. Gavin Newsom to join a task force that will help guide the state's economic reopening and recovery. Other members include Apple CEO Tim Cook; Los Angeles Times owner Dr. Patrick Soon-Shiong; Walt Disney Co. Executive Chairman Bob Iger; Gap, Inc. CEO Sonia Syngal; Los Angeles Clippers President Gillian Zucker and LinkedIn CEO Jeff Weiner.
Rich Grimes '73 Assists With "Operation Gratitude"
Over Mother's Day weekend, Rich Grimes '73 helped assemble care packages for the Carmelite Sisters of the Most Sacred Heart of Los Angeles. "Our hope is to put a smile on their faces and a recognition in their minds that they're not alone, and that we're beaming our prayers and support for what they do and how they put themselves at risk for others." Read more on Grimes and "Operation Gratitude" in the Angelus News here.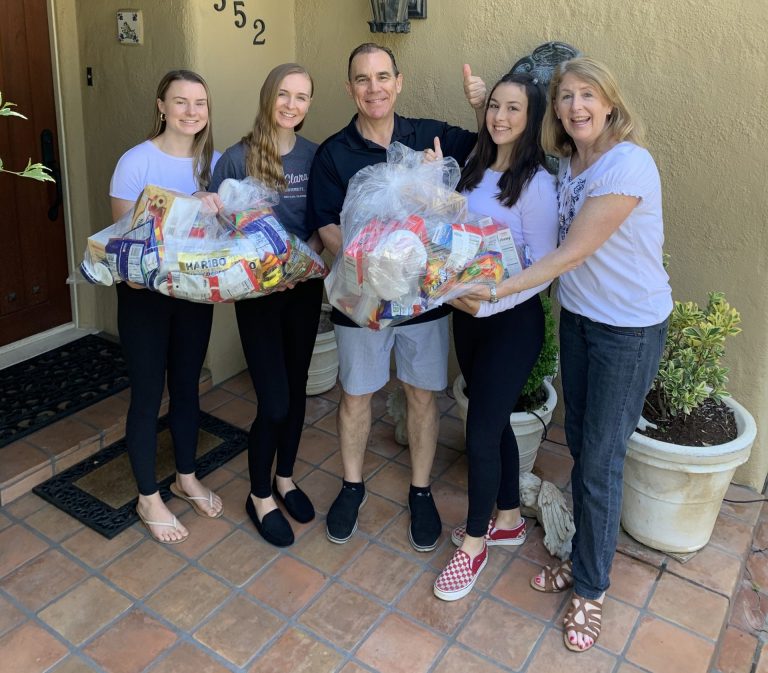 Enrique Loyola '14 Helps Get Restaurants on the Road
Cub graduate and Latino Alumni Society Board Member Enrique Loyola '14 helped kickstart a new platform called On The Go LA, which helps local restaurants in Los Angeles book short-term food truck rentals at the lowest cost. Read more about the start of On The Go LA and Enrique (pictured center) here.
Cade Kruse '16 Earns Back-to-Back Academic Achievement Award
For the second year in a row, Loyola Water Polo alum and member of the UC Berkeley Water Polo team Cade Kruse '16 was awarded the Golden Bear Achievement Award for having the highest GPA on the team. Kruse studied at the Haas School of Business.
Sean Smith '16 Named Finalist for Unsung Hero Award
Loyola Lacrosse alum Sean Smith '16 was named a finalist for the Yeardley Reynolds Love Unsung Hero Award in May. The YRL Unsung Hero Award "recognizes the accomplishments of six men's and women's collegiate lacrosse players from Divisions I, II and III who demonstrate dedication, integrity, humility, hard work, community service, leadership, kindness and sportsmanship." Full release from Connecticut College here.
Ryan Parks '17 Inspires Others to #LiveImproper
Young alumni Ryan Parks '17 and his colleagues at Improper Etiquette, a non-profit clothing company, are doing their part to make an impact in their local communities and on the planet through beach clean-ups, collection drives and service on Skid Row. Explore their website above to learn more about their mission and how they are making good on their promise to protect the environment.
Car Club Hosts Virtual Car Show Featuring Alumni
On May 13th, the Loyola Car Club hosted a virtual car show and took submissions from alumni, teachers and parents. To see the slideshow that was put together by current students, click here.
Loyola High to Continue Streaming of Sunday Mass through July 5th
The John Malloy Broadcast Club, along with Fr. Greg Goethals, SJ '73 and the Jesuits of the Loyola community, will continue their weekly Sunday Mass broadcasts streamed live from Clougherty Chapel through Independence Day weekend. For the full schedule of Noon Masses this month, please click here.
If you have exciting news to share about yourself or another Cub, please send an email to Alumni Relations Manager Patrick Girardi '99 at pgirardi@loyolahs.edu. Also, be sure to tag us in photos on Instagram, Facebook and Twitter (@LoyolaHigh and @LoyolaHighAlumni). We look forward to sharing your stories. Go Cubs!